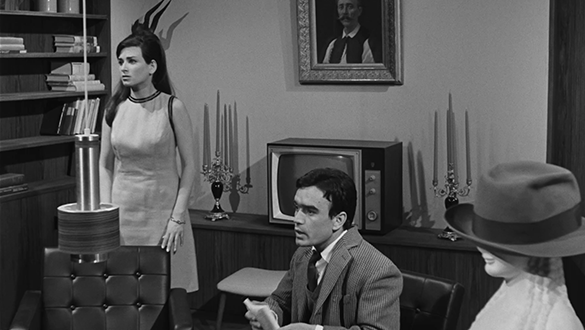 The main story of the film is about a poor English teacher who tutors the daughter of a rich family and flirts with both the daughter and her mother. His inner conflicts are attributed with a sharp
sense of humor in the dialogues. Furthermore, Manthoulis, with his innovative style - skillfully bypassing the narrative conventions, in a way reminiscent of Godard, and slicing the narrative with shot
sequences full of allusions - scolds the pre-dictatorial political situation in Greece, satirizes the rising newly wealthy social class and also stigmatizes the urban distraction of Athens of the 1960s.
---
Robert Manthoulis (1929-2022), active as a teenager in the anti-Nazi resistance, studied political science in Athens and then cinema in New York. He directed fiction films - for example, Hands Up Hitler (1963) and Face to Face (1966) - but his obsession was documentary. Exiled to Paris during the dictatorship, he worked for French television. In 1975, he became for one year the artistic director of  the Hellenic Broadcasting Corporation (ERT). He later traveled, making documentaries for French television. In the early 1980s, he was again called upon to contribute to the improvement of Greek television, but eventually devoted himself to the creation of the television series Ungoverned cities (1983-1986) and the documentary Greek Civil War (1997) and  its six-hour television version. In the 1990s, he performed an important role as a mediator of cultural relations between Greece and France, while also working to highlight the educational role of television.
 With the support of: A Season of Classic Films - Association des Cinémathèques Européennes (ACE), Creative Europe MEDIA, ΕΣΠΑ/ NSRF.
---