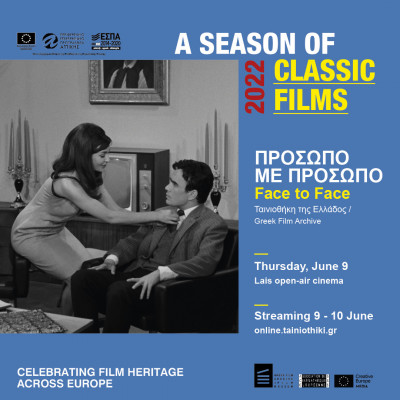 ➔ Premiere (physical screening): Thursday, 9 June 2022 - 21:30 at LAIS open-air cinema with free entrance in order of priority
➔ Online streaming: From Thursday, 9 June at 21:00 and for 24 hours, for free and without any limitation based on geo-location at https://online.tainiothiki.gr
This Thursday, 9 June, the Greek Film Archive honours the great Greek director Roviros Manthoulis, a few weeks after his demise. The GFA will present the premiere of his film Face to face (Prosopo me prosopo, 1966)in a digitally restored in 4K version.
The image and sound restoration have been carried out from the original 35mm negatives, preserved at the Greek Film Archive vaults. The restoration was realised with the support of "A Season of Classic Films", an initiative of ACE –Association des Cinémathèques Européennes, part of European Commission's Creative Europe MEDIA programme and the support of the Operational Programme ROP ATTIKI of NSRF 2014-2020.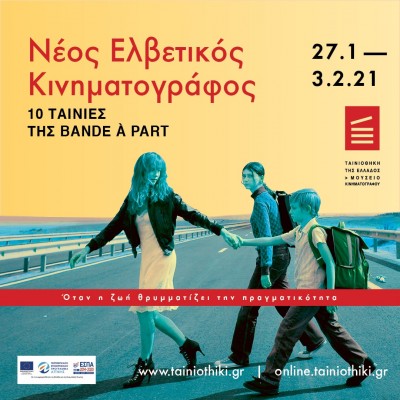 When life shatters reality
10 films by the Swiss group "BANDE ÀPART"
From January 27th to February 3rd
online.tainiothiki.gr
The Greek Film Archive and Swiss Films, with the support of the Embassy of Switzerland in Greece; provide a unique opportunity to the Greek public, to familiarise itself, with the still largely unknown, body of work of the Swiss Cinema, by presenting the tribute "New Swiss Cinema—When Life Shatters Reality". From January 27th till February 3rd, through the Greek Film Archive's platform: online.tainiothiki.gr, it introduces, to the Greek audience, 10 films (three documentaries and seven narrative fiction films) by the Swiss group BANDE À PART, signed by Ursula Meier, Lionel Baier, Jean-Stéphane Bron, Frédéric Mermoud and Alain Tanner. Starring: Isabelle Huppert, Bruno Ganz, Nathalie Baye, Emmanuelle Devos, Bulle Ogier and other important European actors.