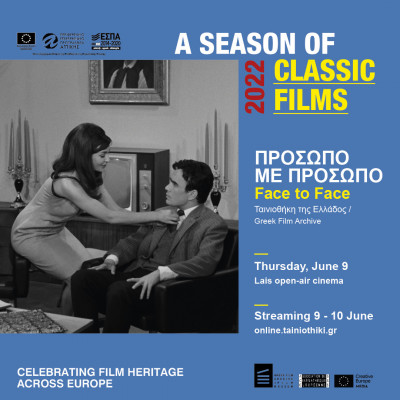 ➔ Premiere (physical screening): Thursday, 9 June 2022 - 21:30 at LAIS open-air cinema with free entrance in order of priority
➔ Online streaming: From Thursday, 9 June at 21:00 and for 24 hours, for free and without any limitation based on geo-location at https://online.tainiothiki.gr
This Thursday, 9 June, the Greek Film Archive honours the great Greek director Roviros Manthoulis, a few weeks after his demise. The GFA will present the premiere of his film Face to face (Prosopo me prosopo, 1966)in a digitally restored in 4K version.
The image and sound restoration have been carried out from the original 35mm negatives, preserved at the Greek Film Archive vaults. The restoration was realised with the support of "A Season of Classic Films", an initiative of ACE –Association des Cinémathèques Européennes, part of European Commission's Creative Europe MEDIA programme and the support of the Operational Programme ROP ATTIKI of NSRF 2014-2020.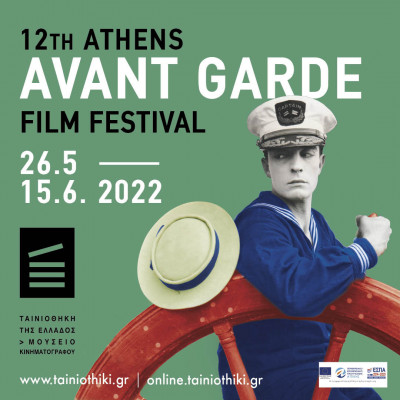 26 MAY - 15 JUNE 2022
Screening Schedule


The Athens Avant Garde Film Festival, the Film Archive's favourite annual event has returned once again, this time in hybrid form. The festival has been organised with the funding of the Ministry of Culture and Sports and the NSRF Operational Programme, in collaboration with the Embassy of Portugal and the Instituto Camões, the Embassy of France and the Institut Français, the Embassy of Lithuania and the Lithuanian Culture Institute, the Embassy of Italy and the Istituto Italiano di Cultura di Atene, the Department of Communication and Media Studies at the National and Kapodistrian University of Athens, the Technopolis of the Municipality of Athens and finally, the digital platform of ERT, ERTFLIX.