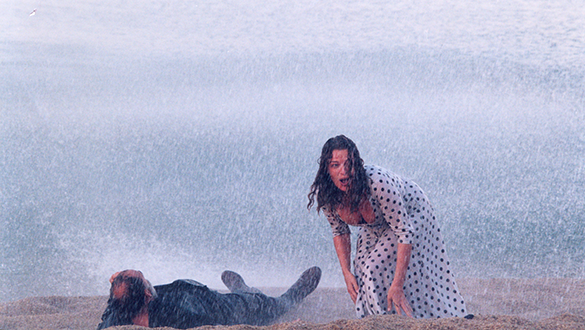 Alexander, a celebrated middle-aged writer, is working on the unfinished Solomos poem Free Besieged. There are words missing from the poem, and Alexander tries to retrieve them, to buy them as Solomos himself had done. These words haunt A.'s life. He needs them to complete the puzzle of the unfinished masterpiece. But, his strength exhausted, he walks towards death. The time left to
him belongs to memories, to a summing up of his life, full of lost opportunities and wrong moves. There is still just one move left: a chance encounter with a little boy, a homeless "child of the traffic
lights". Alexander takes the boy under his wing, postpones his "departure" and prolongs eternity for one more day, so as to impart to his young friend part of his knowledge; to leave his mark on someone, through whose gaze he who is departing will be saved.
---
Theo Angelopoulos (1935-2012) was one of the most important Greek auteurs. He studied law at the University of Athens and cinema in Paris (Sorbonne and IDHEC). His films have been screened at many international festivals and have won many awards and distinctions, while he and his work hold an important place in world cinema and film literature.
---