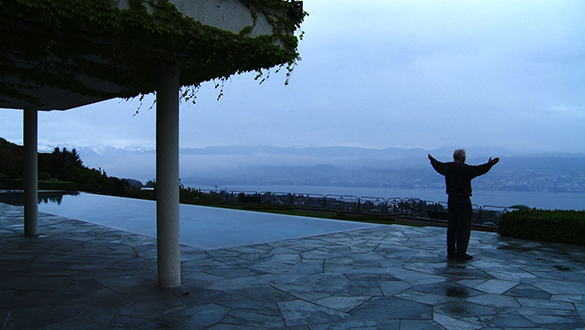 The story of Switzerland's most controversial political leader. It also chronicles the face-to-face encounter between a filmmaker and a man of power, through a year of exclusive, up-close interviews and access to his private life.
Fall 2011. Christoph Blocher is on the campaign trail, working toward a victory for his rightwing, nationalist SVP party that will ultimately win nearly a third of the votes. His car offers an unrivaled vantage point for the filmmaker, enabling him to tell the story from the inside, and in the first person. On the road, the film unravels the threads of Blocher's life - his triumphs, his methods, his secrets. How did an impoverished pastor's son became a successful businessman with a colossal fortune, and one of the most powerful men in Switzerland? A political parable and reflection on a country, the film traces the portrait of a man who has radically transformed politics in Switzerland, Moreover, the film captures the mood of a period when, all over crisis-stricken Europe, nationalism is on the rise.
---
Jean-Stéphane Bron
Born in Lausanne in 1969, Jean-Stéphane Bron is a documentarian. His movies received several distinctions in Europe and in the US, like Connu de nos services (1997), about a scandal of files compiled by Swiss Federal Police. Le Génie helvétique (Mais Im Bundeshuus) (2003), one of the biggest success of Swiss film, or L'Expérience Blocher, portrait of the right-wing populist leader Christophe Blocher, which stirred up controversy. With Cleveland against Wall Street (2010), about the subprime crisis, which is presented in Cannes and nominated for a Cesar, he gains international recognition and receives for the second time the Quartz of Best documentary at the Swiss Film Award. His last movie, The Paris Opera (2017), about Paris Opera's backstage, is widely distributed around the world.
---