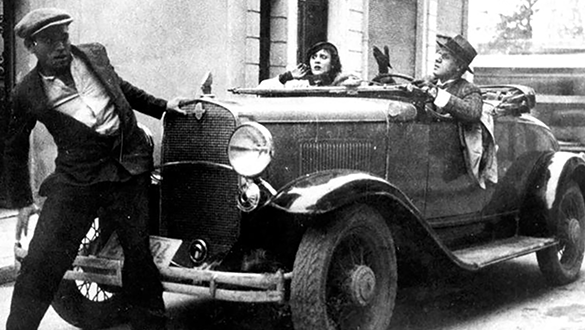 PHYSICAL SCREENING: 27th June, LAIS Open-Air Cinema 
ONLINE SCREENING: 28th June - 7th July, online.tainiothiki.gr
Social Decay was the first Greek social realist film, precursor of neorealism in Greece. It is the first fiction film, to focus on the plight of the unemployed and poor working-class populations of the urban centres, and struggles for the formation of trade unions. The majority of the actors were amateurs and even used pseudonyms. Given that trade-unionism and any other mobilization and protest, which could be labeled as communist, was persecuted as an "illegal and offensive act" under a 1929 Venizelos act, the shooting of the film, was in itself a rather risky business. The film also run into trouble with censorship, depicting drug addiction, in all its gruesome details. As such, its first screenings resulted in police interventions and screening cancellations.
The director of the film Stelios Tatassopoulos, was only 25 years old when he shot "Social Decay", his debut film. He wrote the screenplay and enacted the leading role of the poor student, who becomes an actor but abandons his career in the theater, when his girlfriend, who is the leading lady, abandons him for a rich industrialist. After a near fatal fall to the heart of the Athenian underworld, from where he is saved by a group of tobacco-workers, he works in the tobacco factory and becomes a trade-union activist.
Τhe digital restoration was realized in co-operation with Documenta 14: Learning from Athens. Partner: CINEMATEK Co-producer: COSMOTE TV. With the support of the Greek Film Centre
The project was made possible thanks to the 'A Season of Classic Films' programme, an initiative by ACE (Association des Cinémathèques Européennes), with the support of the Creative Europe MEDIA Programme. The French subtitles for the film Social Decay were created, as part of the same programme.
---